Discover seasonal and local delicacies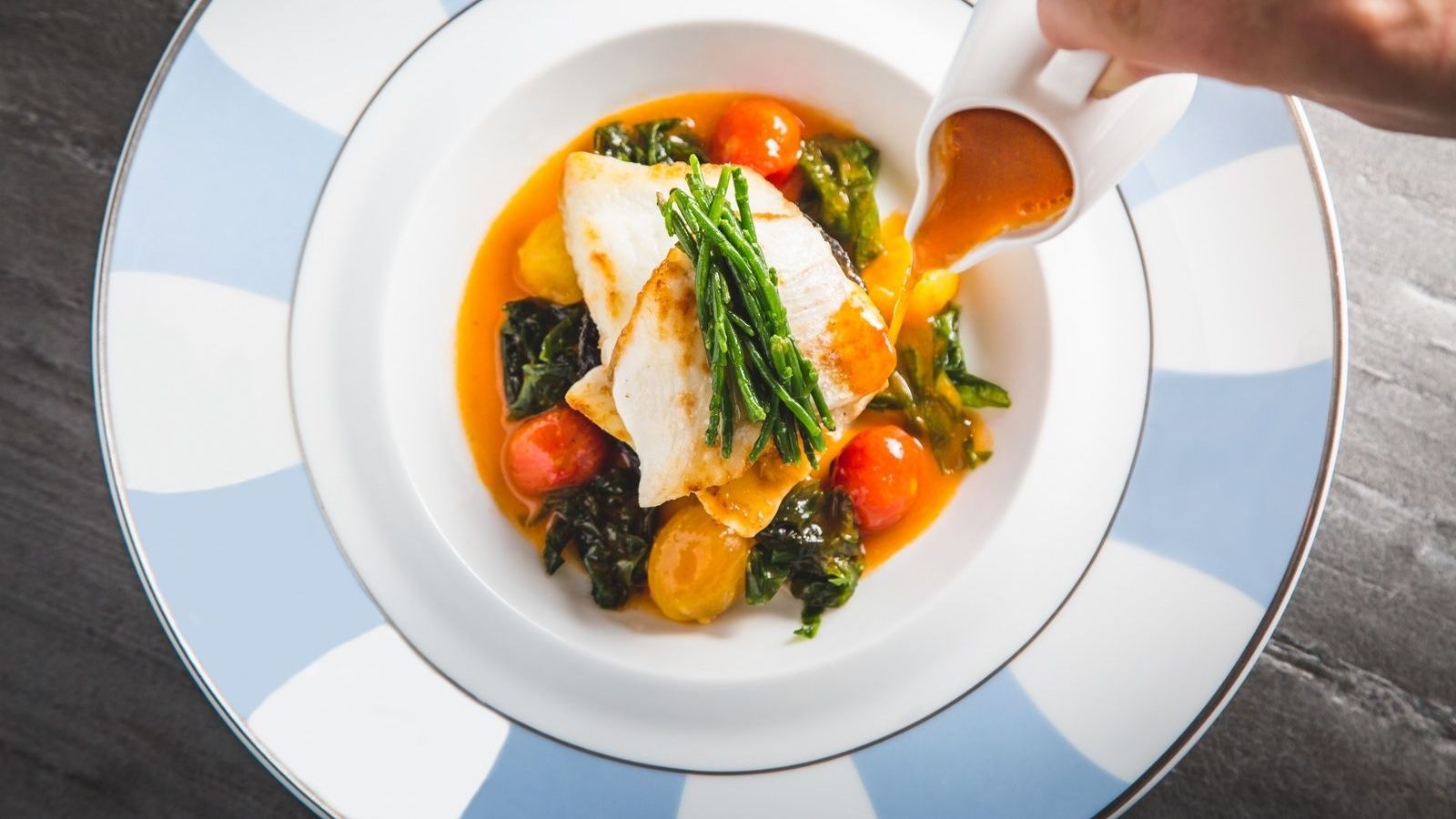 fish dish club del doge restaurant grand canal
club del doge terrace
dessert creatoin club del doge restaurant grand canal
ernest hemingway risotto club del doge restaurant grand canal
Octopus club del doge restaurant grand canal
Tartare club del doge restaurant grand canal
risotto club del doge restaurant grand canal
tartare club del doge restaurant grand canal
vegetables club del doge restaurant grand canal
Dinner menu
Christmas Eve Gala Dinner
New Year's Eve Gala Evening
Dinner menu
Culinary creations and indigenous flavours by Executive Chef Daniele Turco. Join us for a unique culinary experience, daily from 7pm - 10.30pm.
STARTERS
Zucchini flowers - 32
with Parmesan cheese, crunchy and milky rice with almond and orange (vegetarian)
Timbale of seasonal vegetables - 29
with red algae and Caprino cheese (vegetarian)
Assortment of Venetian cicchetti - 34
Spider-crab, coral and iceberg salad | Small prawns from the lagoon with white peach salad | Baby scallop gratin and "risina" beans salad | Whipped salt cod with white Biancoperla polenta (Slow Food Foundation) | Sardines "in saòr"
Amberjack, sea-bass and red prawn tartare - 36
with mayonnaise crustacean, green apple, yogurt and raspberry
"Vitello tonnato" - 34
Cantabrian Sea anchovy, chopped vegetable and home-made mayonnaise salad
Hand-chopped Fassona beef tartare - 34
with walnuts, finger lime, seasonal sprouts and burrata cheese stracciatella (Slow Food Foundation)
Calvisius Tradition Royal caviar (50g) - 210
with blinis and sour cream
FIRST COURSES
Home-made squid ink bigolo pasta - 32
with mantis shrimps "busera" style with cubeb pepper
Mozzarella Ravioli (hand made) - 34
with black truffles
Gazpacho - 25
with raspberry, creme fraiche and lime (vegetarian)
Pacchero Pasta - 36
with mussels, lobster and sweet chily pepper
Venetian style pasta and bean soup - 24
vegetarian
Risotto with desalted cod fish - 32
Mediterranean style
"Hemingway" - style risotto - 34
with scampi
MAINS
John Dory fish - 40
with green tomatoes and green beans sauce
Sole à la Meunière - 46
with roasted spring onion, lemon and capers
Cuttlefish, red mullets, scampo - 46
with cucumbers, peach and "ink-soup"
Wild caught fish of the day - 15 per 1 hg
with sautéed vegetables and potatoes
Beef cube - 52
with mushrooms, eggplants sauce and caramelized hazelnuts
Calf's liver - 46
Venetian style with stage, "polenta di Storo" and figs
Loin of lamb - 50
with mustard, roasted carrot sauce and ginger
Free range crispy baby chicken - 44
with garlic mayonnaise
DESSERTS
Guanaya 64% black chocolate mousse - 22
with cassis sorbet
White peach "Bellini style" - 22
White chocolate cream - 22
with lime and mint sorbet
Vanilla soufflé - 38
with plan "Fiordilatte" ice-cream and chocolate sauce
Selection of homemade sorbets and gelatos - 18
Selection of aged cheese - 28
Verde dei Berici, Crosta fiorita di capra, Cimonino Valsassina, Vezzena, Taleggio Dop, Parmiggiano 36months, Bianco di Monte Galda
All prices indicated in Euro with VAT and service included, cover charge of €14 per person excluded.
Christmas Eve Gala Dinner
Enjoy an exclusive 4-course menu featuring local delicacies and induldge into the festive atmosphere of Club del Doge.
STARTER
Aniseed-flavoured fish soup
with prawn and cuttlefish ink croutons
FIRST COURSE
Lobster-stuffed ravioli
with wild fennel on sautéed sea lettuce
MAIN COURSE
Seabass fillet on silverbeet
with garlic, Mediterranean sauce, sea snails with parsley
DESSERT
Vanilla mousse
with meringue and passion fruit
Christmas Eve Dinner | Euro 125 per person, wine excluded
Wines excluded. Service and VAT included.
Children up to 3 years
Complimentary children's menu
Children between 4 and 10 years
50% discount on the gala evening
Credit card guarantee required for reservations of two or more guests; cancellations received before 4/12/17 7pm (local time) will be charged 50% of the total amount, after 7pm and no shows will be subject to 100% penalty.
New Year's Eve Gala Evening
On December 31st, join us at the Longhi Bar to celebrate the last night of the year with a tasting of "Oysters & Champagne". The evening will continue at 8:30pm with a gala dinner and live music at Club del Doge Restaurant, where our Executive Chef Daniele Turco will be delighted to surprise you with the flavors of his delicious creations. Welcome the new year and finish the evening off with traditional lentils after midnight.
Starter
Amberjack tartare, Crystal caviar, orange sauce
First Courses
Black cuttlefish ink raviolo
filled with lobster and sheep ricotta
Consommé with port, foie gras and truffle tortellini
Fish Dish
Filet of seasbass with lime, braised red onions,Taggiasca olives and sautéed chard
Meat Dish
Slow-braised beef glazed with Amarone wine sauce, potato cream and braised radicchio with wild fennel
Desserts
Almond praline and coffee cream
At Midnight
Classic "zampone" sausage with Castelluccio lentils
Gala Dinner | Euro 415 per person
wines excluded, VAT and service included.
Children until 3 years old
Complimentary children's menu provided
Children 4 to 10 years old
entitled to 50% discount on gala evening
Credit card guarantee required for reservations of two or more guests. Cancellations received before 11/12/17, 7:00pm (local time) will be charged 50% of the amount, cancellations after 7:00pm and no shows will be subject to 100% penalty.
Breakfast:

6:30 AM - 11:00 AM

Informal Day-time Dining:

12:00 PM - 6:00 PM

Dinner Club del Doge:

7:00 PM - 10:30 PM

Dress Code:

Formal